GardenGlo Illuminated Solar Planter
These
solar illuminated planters
will light up your garden and yard with beauty and style. During the day they look like regular garden planters in the yard but at night they light up in a variety of colors.
The solar lit planters are an eco-friendly way to add light to your garden and planting area. This unique illuminated planter adds a soft, warm glow to enhance any outdoor yard decor. The
solar powered LED lighting illuminates
the planter and surrounding area for extra ambiance.
Solar planters even look great during the day when they are not lit up and make a beautiful planter for a patio or planting area. Planters can be used on balconies, decks, and other areas outside the home for additional lighting in the summer.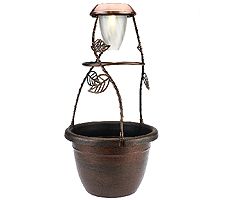 These can also be used as decorative items on a patio or to store beverages or use your imagination for decorating.
SolaRadiance Decorative 1.5 Gallon Planter with Solar Light
Here are some planters to check out:
Solar Operated Illuminated Round Planter
– This is made by Yimby home and garden products help who promote environmental responsibility, sustainability, well-being and overall enjoyment of home and garden.
GardenGlo Illuminated Solar Planter
- Elegantly yet simple design highlights this large resin planter to enhance any patio setting and illuminate the night. The totally self-sufficient solar GardenGlo planter has a separate control unit mounted on a ground stake for positioning in direct sunlight and an on/off switch with auto on function at dusk. Available in 3 colors Frost, Terra Cotta, and Blue Includes 3 AA rechargeable batteries 6 LED bulbs last 20,000 hours. The planter can also be used as a beverage cooler Dimensions: 21"D x 20"H